XFL programming has been presented at Notes related conferences as EntwicklerCamp and DNUG.

The Extended Formula Language improves the native formula language of Lotus Notes in several important points, e.g.:
Real formula debugging
Do not slave away at pseudo debugging using @Prompt any longer! Take the XFL @Formula debugger. It can be so easy! You even can use a SmartIcon to activate or deactivate the debugger.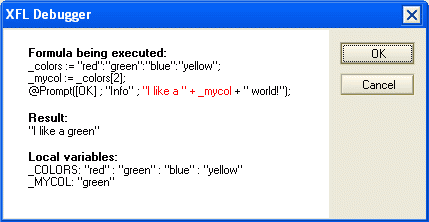 Define your own @Functions
Add new @Functions to the formula language or define alias names to existing functions.
Example:
DEFINE @MyFunction(x) := x*x;
FIELD Value2 := @MyFunction(Value1)
You also can easily embed functions of your LotusScript libraries and make them usable as new @Functions.
A lot of new @Functions are implemented in XFL as well.
Use LotusScript code within your formula code
Use @Execute to take advantage from the LotusScript language in your formulas.
Object oriented programming in formulas
You can use LotusScript classes and handle objects by formula.
Example:
OBJECT session := @CreateObject("NotesSession");
OBJECT mydb := session.currentdatabase;
FIELD Size := mydb.maxsize;
... and much more. Just read the documentation file to find out all the features.